Co-operative Learners' Forum/School Council
NW24 Super School Council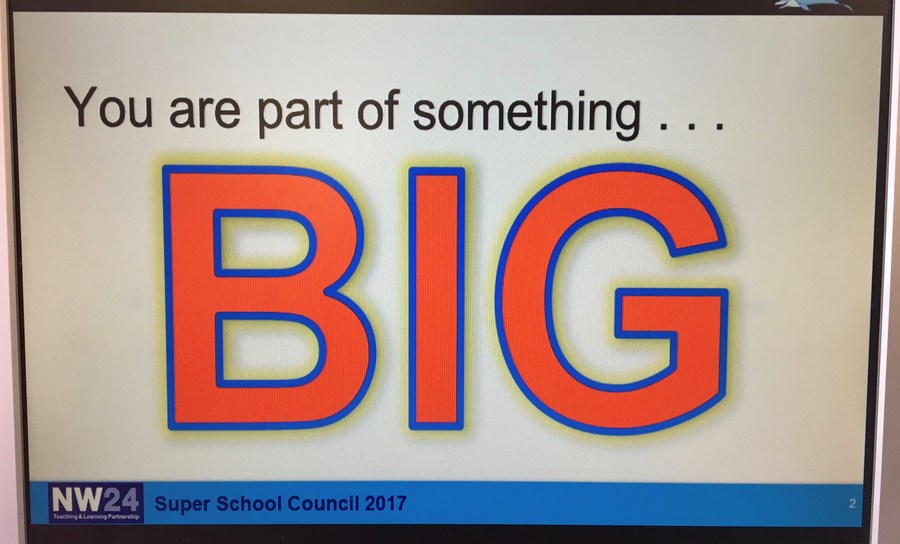 On Monday 20th March, 3 children from the Colston's Learners Forum attended the inaugural meeting of the NW24 Super School Council. The NW24 network is a large group of primary and secondary schools from across North Bristol and, as the children were reminded, they were speaking for over 10,000 students who are part of this cluster.
The purpose of the meeting was to establish links between the learners at these many and varied schools, and to suggest ways in which children from different schools could collaborate and achieve with one another. In preparation for this conference, each Forum member spoke to the children in their class, and then those ideas were gathered at a meeting of the Colston's Learners' Forum. Three children were then chosen to represent our school at this exciting event: Molly (6JO), Molly (2Y) and Samir (4J). Co-operative staff members Alex Jarman and Jo Bush, as well as Chair of Governors Kate Swainson Price, were also in attendance.
The ideas gathered at this conference will now be taken to the NW24 Headteachers' conference next month, where selected children will present them for deliberation.
" I liked it today because I got to talk to all different kinds of people" ( Phoenix, Bristol Gateway)
"It was great to see the primary school pupils and how creative and talented they are as a team" (Dante, Bristol Gateway)
" We all got involved with no-one being shy. We all got to cooperate and give our ideas" (Georgia, Bristol Gateway)
"I enjoyed collaborating with other schools and really get to know people from our area of Bristol" (India, Redland Green School)
"I really enjoyed experiencing what other pupils think about and how they do this" (Jake, Christ Church School)
"When we came today we had barely a page of ideas and now we have so many ideas to take back to our friends and teachers" (Oriana, St Bonaventures)
"It was great to have the chance to express my ideas" (Samir, Colston's)
The new School Council from January 2017 is here:
| | |
| --- | --- |
| 2B | Saffir |
| 2Y | Molly & Samir |
| 3RW | Sulaiman |
| 3A | Sadie |
| 3T | Bea |
| 4W | Seren |
| 4J | Samir & Seren |
| 5W | Hamda |
| 5M | Archie |
| 6J | Oliver |
| 6JO | Molly |
The School Council have been busy collecting opinion on which areas of the playground at Cotham Grove children would like to improve. We developed a survey which we sent out to all of the classes. The children in each class will be able to vote and give 3 preferences for an area of the playground they would like to improve. Mr Bell and the PTAF will then be able to look at our top choices and make some improvements!
Here are some quotes from the children's application forms:
Year 2:
"I would make sure that I listen to other children's ideas and views. If their idea was better for our school then I would go with theirs"

"If I was a member of the school council I would listen to all the children and we could vote. The one with the most votes would win. I think voting is fair."

"I would go with the most wanted idea a bit like a vote, even if it was different to my view."

Regarding self-help, one of our cooperative values, "I would encourage other children to try and work something out themselves before getting help from a grown-up."

Democracy, "I think everybody should be heard and everyone should have a say."
Year 4:
"I will go with their idea only if it's sensible.

"I will speak for them first and make sure they're heard before me."

Equality, "When I see people who do not have equal rights and opportunities I will speak up for them and try to change things. I want to make the school a fair place for everyone."

"Self-responsibility means that you are in charge."
Year 5/6:
"I think that equality is very important because you need to treat each other fairly. If you want to be treated good you treat other people good."

Before taking an idea to the School Council, "I will listen to them. If it is a good idea I will take it to the School Council. If it is not then I will do a vote in the class."

" I would promote solidarity and to help people work together. I think you can help people become competent by encouraging them."
Updated 25/1/17