A Design for the Cotham Grove site playground ... drawn up by our community for our community
Initial designs were commissioned by school in 2015. These were put out for consultation and have since been further developed based on the consultation outcomes. These plans have been very well thought through with input from our whole school community.
The final, tantalising playground masterplan, drawn up by a volunteer parent who designs gardens, Karen Sillence of Dragonfly Gardens. It is based on sound educational rationale with an emphasis on providing children with as much opportunity for natural play in green surrounds as possible. Final touches are being concluded in consultation with staff, children and parents.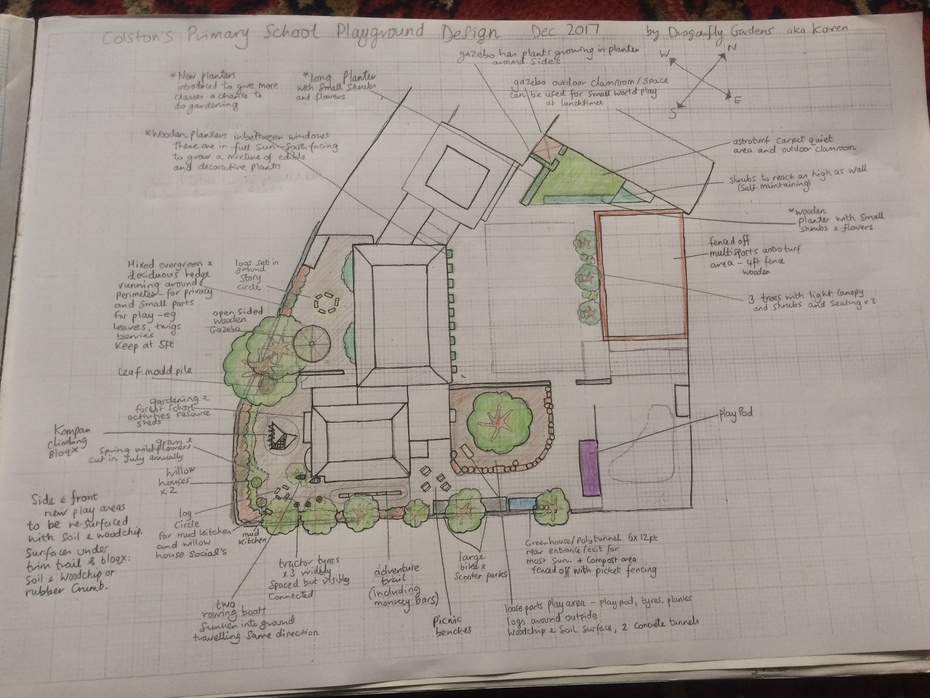 (better image coming soon ... but this gives you a good first impression)
As per community consultation outcomes key features include:
forest school areas

story circles

digging and gardening zones

a greenhouse

bike and scooter park

a mud kitchen

a variety of adventure and imaginative play areas with a climbing and play equipment to suit all ages and stages

a dedicated fenced off area for multisports and undercover areas for outside learning
Here's the shopping list (££s coming soon ...) - overall cost around £100,000 - we're aiming to raise £70,000 by end 2018 via 70th Anniversary Playground Fundraising Appeal
AREA 1: Front Playground 1: Forest School Area
What?
Gazebo
story circle of logs (semi-fixed)
shrubs
hedge
remove tree?
AREA 2: Front Playground 2: Wilderness area
What?
Whole area needs resurfacing - remove tarmac and add soil
climbing bloqx
Two Rowing Boats sunk into ground
Log circle (moveable)
3 x tractor tyres poss more
Two willow houses
Mud kitchen
Wild flowers
Grass
Hedge
Trimtrail / Adventure equipment
AREA 3: Main School Gate Entrance Area
What?
Bike and scooter parks
picnic benches x 4 maybe more
Greenhouse
Beatuful new entrance gates
AREA 4: Redwood Tree play area
What?
Remove tarmac, dispose of, ship in soil
Woodchip / mulch / tree bark
Logs
hiding / crawling tunnels
AREA 5: Main Rear Playground: Sun Garden
What?
planters to fit between the school building windows
AREA 6: Green Oasis
What?
Benches
Trees x 3
Shrubs x 6 or more
AREA 7: Multi sports
Fenced off multi sports astro turf area
AREA 8: Outdoor space, climbing wall, flower Garden
What?
Outdoor space around climbing wall: Flower Garden
long planters x 2
corner planter x 1
gazebo
astroturf
shrubs and plants for planters